Village Office Open Hours
The Village offices are now open Monday, Wednesday, and Friday from 10 AM to 2 PM.

All Federal and State COVID restrictions will be enforced. Please help us keep ourselves and our families safe.

We are always available by telephone:
President Vern Talmadge, 231-780-8505
Treasurer Deb Murphy, 231-301-5162
Clerk Brandy Williams, 231-880-5788

Thank you for your consideration,

Brandy Williams
Rothbury Village Clerk
Come Ride the Hart-Montague Trail From Rothbury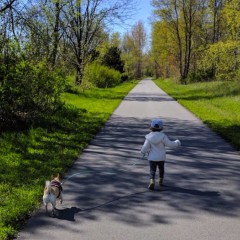 Twenty-two miles of smooth new pavement for you ride; that's the William Field Memorial Hart-Montague Trail, now finished and ready for you and your family to enjoy.

The trail cuts through the center of the Village of Rothbury, providing strategic mid-point trail access. The trail was once a Grand Rapids to Pentwater railroad line dating back to 1872. From Rothbury you can head north on the trail toward Shelby and Hart, or south toward Montague, either direction making for a fun and memorable day's adventure.

Find convenient free parking at our trail access point behind Village Hall, with plenty refreshments and food nearby. Check the links below for trail information and maps, courtesy of Michigan Trails Magazine and website.
Visit Online:
Hart-Montague Trail Information Page
Google Map to Rothbury