Playground and Picnic Pavilion at Village Hall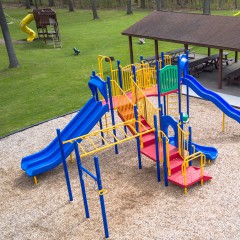 Looking for a nice place to bring the kids for some playtime? Or perhaps a nice shaded place to picnic with family and friends? The playground and picnic pavilion at Village Hall is waiting for you!

Swings, climbing and slides make great fun for children, and the picnic pavilion offers plenty of tables in a comfortable covered space. Surrounding trees and woods make it a park experience.

If you'd like to reserve the pavilion for an event, call Village Hall at (231) 894-2385.
Come Ride the Hart-Montague Trail From Rothbury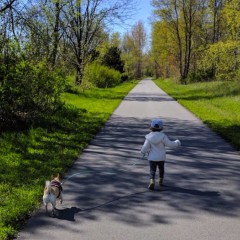 Twenty-two miles of smooth new pavement for you ride; that's the William Field Memorial Hart-Montague Trail, now finished and ready for you and your family to enjoy.

The trail cuts through the center of the Village of Rothbury, providing strategic mid-point trail access. The trail was once a Grand Rapids to Pentwater railroad line dating back to 1872. From Rothbury you can head north on the trail toward Shelby and Hart, or south toward Montague, either direction making for a fun and memorable day's adventure.

Find convenient free parking at our trail access point behind Village Hall, with plenty refreshments and food nearby. Check the links below for trail information and maps, courtesy of Michigan Trails Magazine and website.
Visit Online:
Hart-Montague Trail Information Page
Google Map to Rothbury