Come Ride the Hart-Montague Trail From Rothbury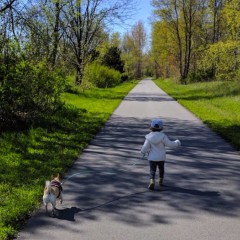 Twenty-two miles of smooth new pavement for you ride; that's the William Field Memorial Hart-Montague Trail, now finished and ready for you and your family to enjoy.

The trail cuts through the center of the Village of Rothbury, providing strategic mid-point trail access. The trail was once a Grand Rapids to Pentwater railroad line dating back to 1872. From Rothbury you can head north on the trail toward Shelby and Hart, or south toward Montague, either direction making for a fun and memorable day's adventure.

Find convenient free parking at our trail access point behind Village Hall, with plenty refreshments and food nearby. Check the links below for trail information and maps, courtesy of Michigan Trails Magazine and website.
Visit Online:
Hart-Montague Trail Information Page
Google Map to Rothbury

2020 Village Council and Planning Commission Meeting Dates
The Rothbury Village Council meets at 7:30 PM on the third Tuesday of the month unless otherwise noted, and the Rothbury Planning Commission meets at 4:30 PM on the second Tuesday of the month. Please download the 2020 Meeting Dates schedule at the link below.

The meetings are held at Village Hall and are open to the public; everyone is welcome to attend. Weather and other factors can cause meeting times and dates to unexpectedly change. Please call ahead to confirm the time and day of any meeting you'd like to attend.
Download a File:
Village of Rothbury Meeting Dates, 2020 (PDF)

Halloween Celebration
The Rothbury Village Council is excited to announce our plans for a safe Halloween celebration! We will be having a drive through trick or treat event at the Rothbury Community Center, 7160 Oceana Drive, just South of the Grant Township Fire Barn.

Families will be asked to drive in the South driveway and out the North driveway. Please use caution and remain in the vehicle. Masks are encouraged.

Volunteers will be distributing candy, hot dogs and assorted goodies to each vehicle. We wish all of our children a happy and safe Halloween!
Arts and Crafts Fair
The Rothbury Village Council is happy to announce the Arts and Crafts Fair scheduled for Saturday, November 14, 2020 is still going to happen! The event will take place at the Rothbury Community Center, 7160 Oceana Drive, just South of the Grant Township Fire Barn.

The fair will be open from 9 AM to 3 PM. Food will not be available this year and all COVID-19 precautions will be in place. A nice variety of crafters have signed up, so come join us for a safe and happy craft show.
Village Office Open Hours
The Village offices are now open Monday, Wednesday, and Friday from 10 AM to 2 PM.

All Federal and State COVID restrictions will be enforced. Please help us keep ourselves and our families safe.

We are always available by telephone:
President Scott Beishuizen, 231-301-5175
Treasurer Deb Murphy, 231-301-5162
Clerk Carol Witzke, 231-301-0278

Thank you for your consideration,

Carol Witzke
Rothbury Village Clerk
Playground and Picnic Pavilion at Village Hall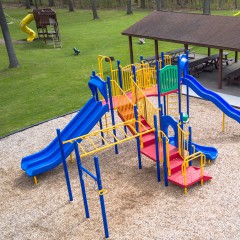 Looking for a nice place to bring the kids for some playtime? Or perhaps a nice shaded place to picnic with family and friends? The playground and picnic pavilion at Village Hall is waiting for you!

Swings, climbing and slides make great fun for children, and the picnic pavilion offers plenty of tables in a comfortable covered space. Surrounding trees and woods make it a park experience.

If you'd like to reserve the pavilion for an event, call Village Hall at (231) 894-2385.